Current Members
Choir members for 2017/18
A list of 2019-2020 members will be here in a few weeks. 
Our 2017-2018 members were selected through nationwide auditions held in September and October, 2016. They were students from 38 schools from across the country, as far north as Whangarei and south to Dunedin. 2017/2018 members ranged in age from 13 to 17 years old.
A full list of 2017-2018 members is below.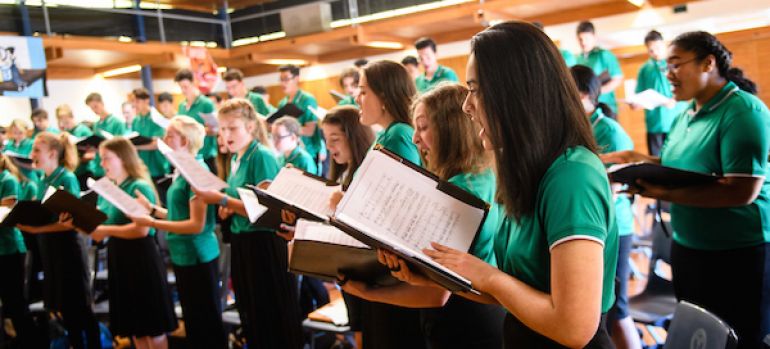 Name
School
City/Town
Voice
Andrew, Elizabeth
Chilton St James School
Upper Hutt
Soprano
Brereton, Matthew
Pompallier Catholic College
Whangarei
Bass
Brown, Samuel
Dilworth School
Auckland
Bass
Carroll, Morgan
St Mary's College
Auckland
Alto
Christie, Scott
Taieri College
Mosgiel, Dunedin
Tenor
Colquhoun-Petherick, Hannah
Epsom Girls' Grammar School
Auckland
Alto
Couillault, Olivia
Diocesan School for Girls
Auckland
Alto
Evans, Holly
Rangi Ruru Girls' School
Christchurch
Soprano
Foster, Amelia
Woodford House
Havelock North
Soprano
Gibbs, Lillian
St Hilda's Collegiate
Dunedin
Soprano
Grant, Alexander
Otago Boys' High School
Dunedin
Tenor
Guthrie, Madeline
St Hilda's Collegiate
Dunedin
Soprano
Harris, Samuel
Central Hawkes Bay College
Patangata, Hawkes Bay
Tenor
Hayman, Elizabeth
St Cuthbert's College
Auckland
Soprano
Healy-Melhuish, Greta
Wellington East Girls' College
Wellington
Alto
Hickford, Samantha
Christchurch Girls' High School
Christchurch
Soprano
Hodgetts, Daniel
Palmerston North Boys' High School
Palmerston North
Bass
Holden, Mary
Wellington Girls' College
Wellington
Alto
Hos, Victoria
St Peter's School Cambridge
Hamilton
Soprano
Hung, Aidan
John McGlashan College
Dunedin
Bass
Hurnen, Nicolette
Tawa College
Wellington
Alto
King, Morgan
Dilworth School
Hamilton
Bass
Komene, Takerei
Dilworth School
Auckland
Tenor
Lee, Keunhee
Palmerston North Boys' High School
Palmerston North
Tenor
Lewis, Felicity
Takapuna Grammar School
Auckland
Soprano
Likuohihifo, Viliami
Dilworth School
Auckland
Tenor
Lu, Chenrong
King's College
Auckland
Bass
Lutui, Viliami
Dilworth School
Auckland
Tenor
MacGibbon, Billie
St Margaret's College
Christchurch
Alto
McAdam, Alex
King's High School
Dunedin
Tenor
Meekings, Alex
Burnside High School
Rangiora
Bass
Mendrun, Mateusz
St Patrick's College (Town)
Wellington
Bass
Mika-Tamihana, Shania
Palmerston North Girls' High School
Pahiatua
Alto
Milner, Kitty
Diocesan School for Girls
Auckland
Soprano
Minchington, Holly
Trident High School
Whakatane
Alto
Nevell, Josiah
Palmerston North Boys' High School
Ashhurst, Palmerston North
Tenor
Park, Robin
Palmerston North Boys' High School
Palmerston North
Bass
Quatermass, Ally
Diocesan School for Girls
Auckland
Alto
Reid, Izzie
Waikato Diocesan School for Girls
Hamilton
Alto
Renai, Bria
Samuel Marsden Collegiate
Wellington
Soprano
Rosenbaum-Raynish, Valentina
Diocesan School for Girls
Auckland
Alto
Sawrey, Ben
Aotea College
Porirua
Bass
Scholtens, Christopher
King's College
Auckland
Bass
Sio Lolesio, Lemau
Wellington East Girls College
Wellington
Alto
Taare, Carson
Palmerston North Boys' High School
Palmerston North
Tenor
Ta, Jonathan
King's College
Auckland
Bass
Tamaki, Tyrell
St John's College
Rototuna, Hamilton
Bass
Tamayo, Ren-C
St Patrick's College (Town)
Wellington
Tenor
Te Ngahue, Taina
Otago Boys' High School
Dunedin
Bass
Tupa'i, Lorance
Dilworth School
Auckland
Tenor
Tyson-Nathan, Kaylim
Tawa College
Wellington
Tenor
Vaitohi, Siosifa
Dilworth School
Auckland
Tenor
Yang, Sophia
St Cuthbert's College
Auckland
Soprano
Yong, Desmond
St Kentigern College
Auckland
Bass
Zhang, Sally
Kristin School
Hobsonville, Auckland
Soprano