Dr Karen Grylls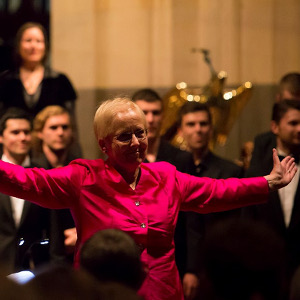 ARTISTIC DIRECTOR
PhD, MM (Choral Conducting), MMus Hons, LRSM, LTCL, Dip Teaching
Dr Karen Grylls CNZM founded Voices New Zealand Chamber Choir in 1998 and the choir has achieved great acclaim internationally in performance and recording. She is Associate Professor in Choral Conducting at the University of Auckland and is Artistic Director of the Choirs Aotearoa New Zealand Trust, the managing body for the NZ Youth Choir and Voices NZ. Dr Grylls was Conductor and Artistic Director of the New Zealand Youth Choir from 1989 to 2011, and Artistic Director of Toronto's Exultate Chamber Choir from 2011 to 2013.
A graduate of both Otago and Auckland Universities, Karen studied post-graduate Conducting and Music Theory at the University of Washington, Seattle, for four years. In 1985 she returned to NZ to teach at the University of Auckland and take up the directorship of the Auckland Dorian Choir.
As a result of her musical directorship, the New Zealand Youth Choir has enjoyed notable international successes including: the Silver Rosebowl in the "Let the Peoples Sing" radio competition in 1992, "Choir of the World" at the 1999 International Eisteddfod in Llangollen and the "Grand Prix Slovakia" also in 1999.
With equal success Voices New Zealand won first and second placings in the mixed choir section of the Tolosa International Choral Competition in October 1998. With these choirs, she has won further prizes and accolades in Gorizia 2004, and Llangollen and Cantonigros, Spain in 2007.
In 1996 Auckland University honoured her with a Distinguished Teaching Award in Music and in 2023 she became an Companion of the New Zealand Order of Merit (CNZM) for her services to choral music. She is also the recipient of the KBB Citation from the Composers' Association of New Zealand and the Lilburn Trust Citation for services to New Zealand music. TOWER Voices CD Spirit of the Land took the 2006 Tui Award for Best Classical Album, and the CD Voice of the Soul was a finalist in the 2013 Vodafone NZ Music awards.
Karen is much in demand as an adjudicator for competitions worldwide, including the 48th International competition in Tolosa, the Marktoberdorf International Chamber Choir Competition, Bavaria, and The World Choir Games in Xiamen, China. She is sought internationally as a choral clinician and regularly conducts masterclasses and workshops in Wales, England, North America, Canada and Australia.
Update my details