INTERESTING STUFF
Meet The Leaders of NZSSC 2021-2022
Thursday 10 June 2021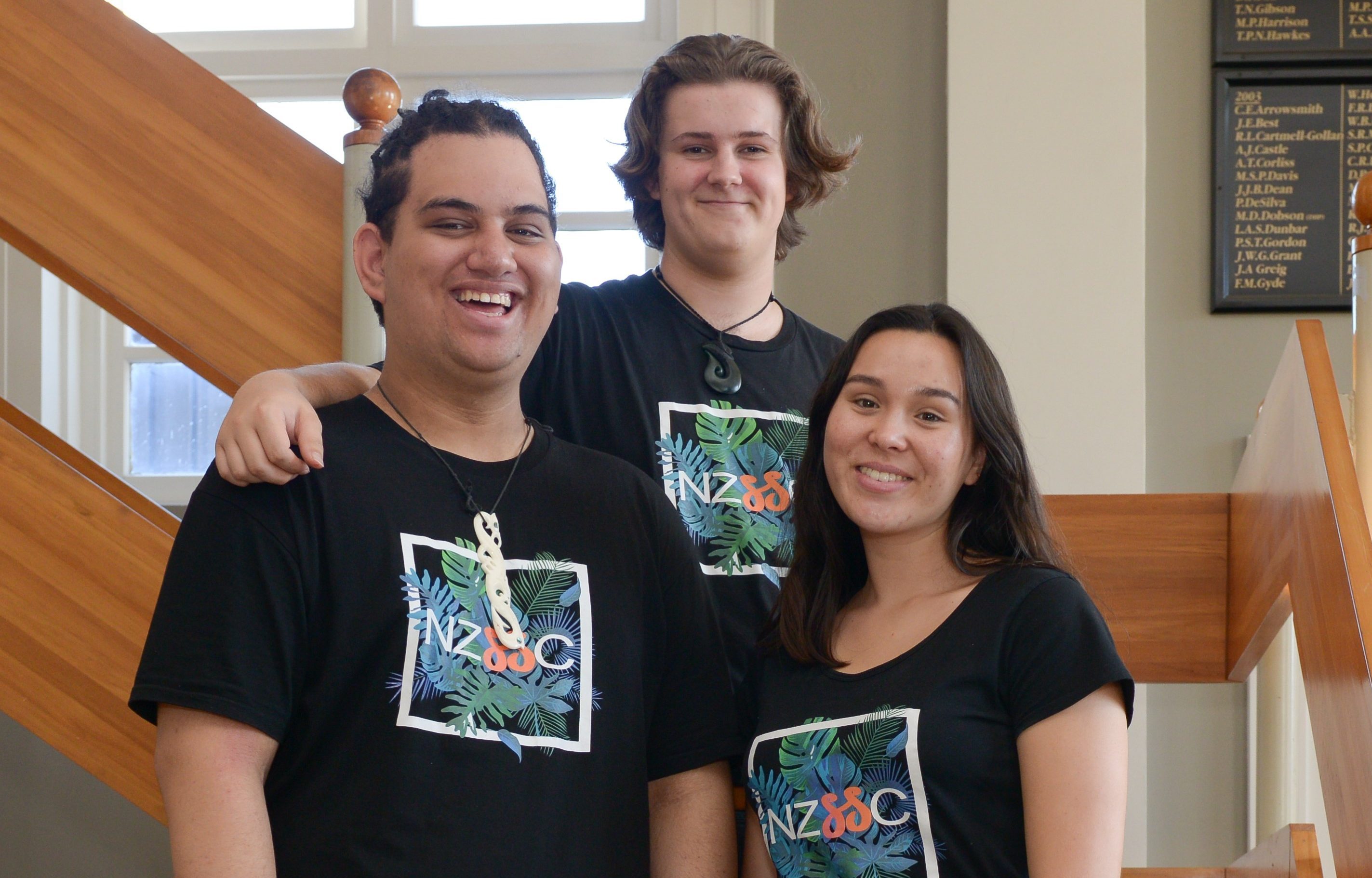 We caught up with the three leaders of NZSSC: From left: Iharaira Ranapia-Hira (Tauranga), Archie Taylor (Wellington) and Alanah Jones (Auckland)
We have several leadership roles within the NZSSC, and rely greatly on the students in these roles to help run rehearsals and sectionals, to teach repertoire (particularly our cultural pieces), to support members on a personal level, and to represent the choir at concerts and other events.
We are very proud to introduce you to our wonderful over-arching Choir Leaders for the 2021-22 cycle! These three individuals have the level of respect and comradeship required within the choir group to develop a close-knit choir family, to be the face of the choir at concerts and events, and to help keep the choir on an even keel through both happy and tough times.
What are you watching, eating and listening to right now?

Archie: Recently I re-watched Happy Feet which brought back a lot of childhood memories. My favourite food at the moment is jelly tip ice cream and I'm really loving Daniel Caesar's music right now.
Iharaira: I am currently watching the ASB Polyfest 2021 TWWOA Māori Stage (Saturday) video on YouTube and I have taken a break from watching Suits and Empire on Netflix because their storylines were getting boring. I am eating maccas: Medium Double Quarter Pounder meal w/ Fanta no ice for the drink. And I am listening to Miss Independent by Ne-Yo. Old School RnB! And some Afro beats.
Alanah: I'm currently re-watching Sherlock, obsessed with key lime pie and listening to Over + Under by Sarah Kinsley
Highlights of NZSSC so far…

Archie: My highlight of NZSSC so far has to be performing on ANZAC day. It was a privilege to be able to sing for the nation and contribute something to this very special day.

Iharaira: One of my highlights was meeting all of the new members and seeing old members in the first course of the year in Tāmaki Makaurau (Auckland) – getting to know one another and setting the foundations of whānaungatanga (familyship), as it is an important element for choirs, especially this one. It can be scary and intimidating
that there are people who have strengths where you have weaknesses so it is important to establish an environment of Kotahitanga (unity) which helps up perform better together.
Another highlight was getting to share a piece of Te Ao Māori with the choir during our second course in Wellington when we had a Pōwhiri for te Whānau o Puanaki. Fellow choir members Taipuhi King, Teahikaa King, Tia Katipo and I helped to lead the Pōwhiri and some members of the choir had never experienced this before. We were honouring our manuhiri who gifted our rōpū with a waiata called 'Te Mura O Te Ahi' – we hope to perform the waiata to all of our whānau and friends to enjoy soon!

Alanah: Probably singing with Simon O'Neill at Government House, and meeting and being able to spend so much time with some of my best friends.
What are you looking forward to most in this cycle?

Iharaira: Hopefully touring internationally! Due to COVID19, NZSSC 19-20 didn't make it overseas, which was a huge disappointment for us. We had this awesome tour planned, travelling to three different countries to perform at various events and festivals and we'd worked so hard to prepare during the first year of the cycle. Our amazing staff found ways to overcome that and we ended up having a Christmas course during December, here in Aotearoa, which to my knowledge hasn't happened before.
I am looking forward to journeying with this new choir over the next two years, and maybe even doing life with a few of them, if not all of them.

Alanah: I'm looking forward to connecting with a new group of singers and being able to bring beautiful music to our audiences.
What's your favourite piece of NZSSC rep to sing at the moment?
Archie: My favorite piece of rep at the moment is Noche de Lluvia. I'm really enjoying the complex, dissonant harmonies and the Latin influence on the piece.

Iharaira: My favourite piece at the moment would have to be our Samoan work 'A pei se vaitafe/Faliu le la' which was arranged by Steven Rapana.

Alanah: There's a few favourites but if I had to choose it would be 'Zigeunerlieder' and 'I sing because I'm happy'.
Does your school have a choir? Do you sing with them?
Archie: My school has a choir, called the Chorale. We are looking forward to singing at the Big Sing soon.

Iharaira: I attend Bethlehem College in Tauranga and my school has 2 choirs; an all-comers choir called BC Sound Collective and our senior auditioned choir named Animoso. I sing with Animoso and have previously sung with BC Sound Collective as a tenor.

Alanah: Yes, there are 5 choirs at Westlake Girls. I'm a member of premier girls' choir, Cantare and the premier mixed choir, Choralation – which I'm the leader of.
Plans for next year, when you leave school?

Archie: My plan for next year is heading down to Christchurch and study Aviation, with the final goal of becoming a pilot.

Iharaira: I am still a little unsure but I most likely think that I will be in Auckland, doing University there through the University of Auckland studying Voice and Law, and maybe taking Māori and Pasifika studies/papers as well. That's the idea. Waikato and Victoria sound good too so I don't know at this moment.

Alanah: I plan to study Classical Voice and Italian

What about in five or ten years?

Iharaira: To be honest, I don't even know what I'm doing next week let alone a few years from now, but I think I would like to be in a place where I'm content and happy, no matter who I'm with or where I am.
"Yesterday is history, tomorrow is a mystery, and today is a gift…. that's why they call it the present." – Master Oogway

Alanah: I hope to be performing and living overseas, maybe in Europe.

Advice for younger singers just starting out?

Archie: My advice for young singers is to listen to different genres of music and take every opportunity given to you.

Iharaira: My advice for young singers would be to have fun and enjoy what you like doing and singing. Don't put pressure on yourself to be the best, do your best instead and don't let others opinions or expectations influence your passion and love for singing and music.
Learning doesn't happen just by doing but by listening and observing.

Alanah: Take advantage of whatever opportunity presents itself. Auditioning, competing, and just trying new things even if you're unsure of yourself can lead to many great opportunities – like being a part of the NZSSC