NEWS
Media Release: Award-winning Youth Choirs perform in Auckland
Thursday 6 July 2017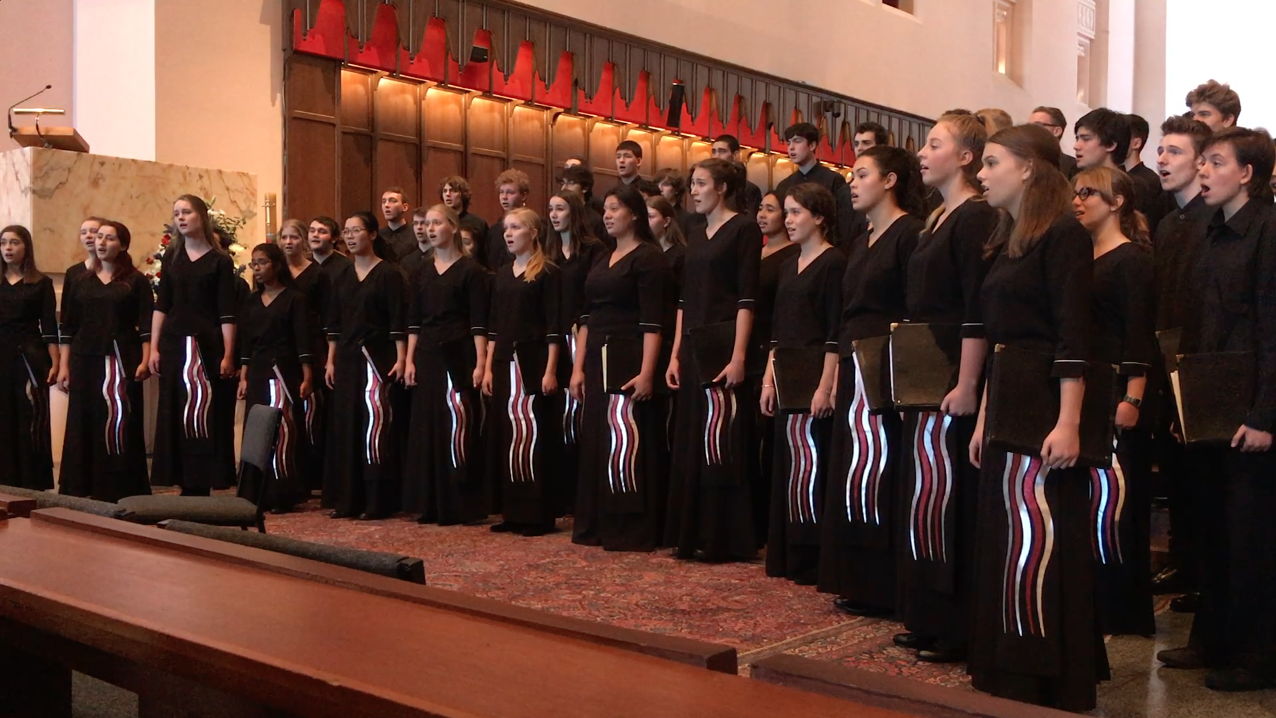 From 8-13 July, the 60 members of the New Zealand Secondary Students Choir will come together in Auckland for six days of intensive rehearsals and workshops, culminating in a very special concert with their 'big cousins' of the choir world, the New Zealand Youth Choir.
The concert is a rare opportunity to see two internationally-acclaimed youth choirs performing together.  It will feature the world premiere of a commission from internationally acclaimed Latvian composer, Eriks Esenvalds, performed by both choirs.
The New Zealand Secondary Students Choir is our national choir for 13 to 18 year olds. It gathers the country's finest young voices from all over the country and offers them a once in a lifetime opportunity—a two-year membership to learn from top New Zealand vocal teachers and consultants. The NZ Youth Choir features 51 of our best singers, aged 18-25 years.
There are 24 Auckland teenagers in the 2017/18 New Zealand Secondary Students Choir,  with a record seven from Dilworth School and five from neighbouring Auckland Diocesan School. Takapuna Grammar, St Mary's College, Epsom Girls Grammar School, St Cuthbert's College, St Kentigern College, Kings College, Westlake Girls and Kristin School are also represented in the choir.
During their six days in Auckland, NZSSC students will be under the baton of their Artistic Director Andrew Withington. They'll also have the incredible opportunity to work with top international composers and conductors, including American Andre Thomas and Latvian Eriks Esenvalds, as part of the programme for the New Zealand Choral Federation's Choral Connect. Choral Connect is a conference for choral conductors, composers and singers.
NZSSC Executive Officer Anna Bowron says, "The visit to Auckland is only the second full rehearsal course for the 2017-2018 choir, but the students are already really starting to gel as a choir. The six days together will allow them to perfect their repertoire for performance. And of course, our first performance will be a very exciting one indeed."
The 2017/2018 choir met for the first time in April in Wellington, under the gaze of its patron, Her Excellency The Right Honourable Dame Patsy Reddy, Governor-General of New Zealand, who visited the rehearsals (Stuff article here).
New Zealand Secondary Students in Concert with NZ Youth Choir
7-9pm, Wed 12th July. Holy Trinity Church, 446 Parnell Rd, Parnell. Door sales ONLY.
Tickets: $45 (waged), $35 (unwaged) and $20 (students/scholars) www.nzsschoir.com/events
For more information or images, contact: Rachel Healy, PUBLICIST. 0275277732, rachel@rachelhealy.co.nz