NEWS
Media Release: Kaylim sings for Great-Grandfather on ANZAC Day
Monday 23 April 2018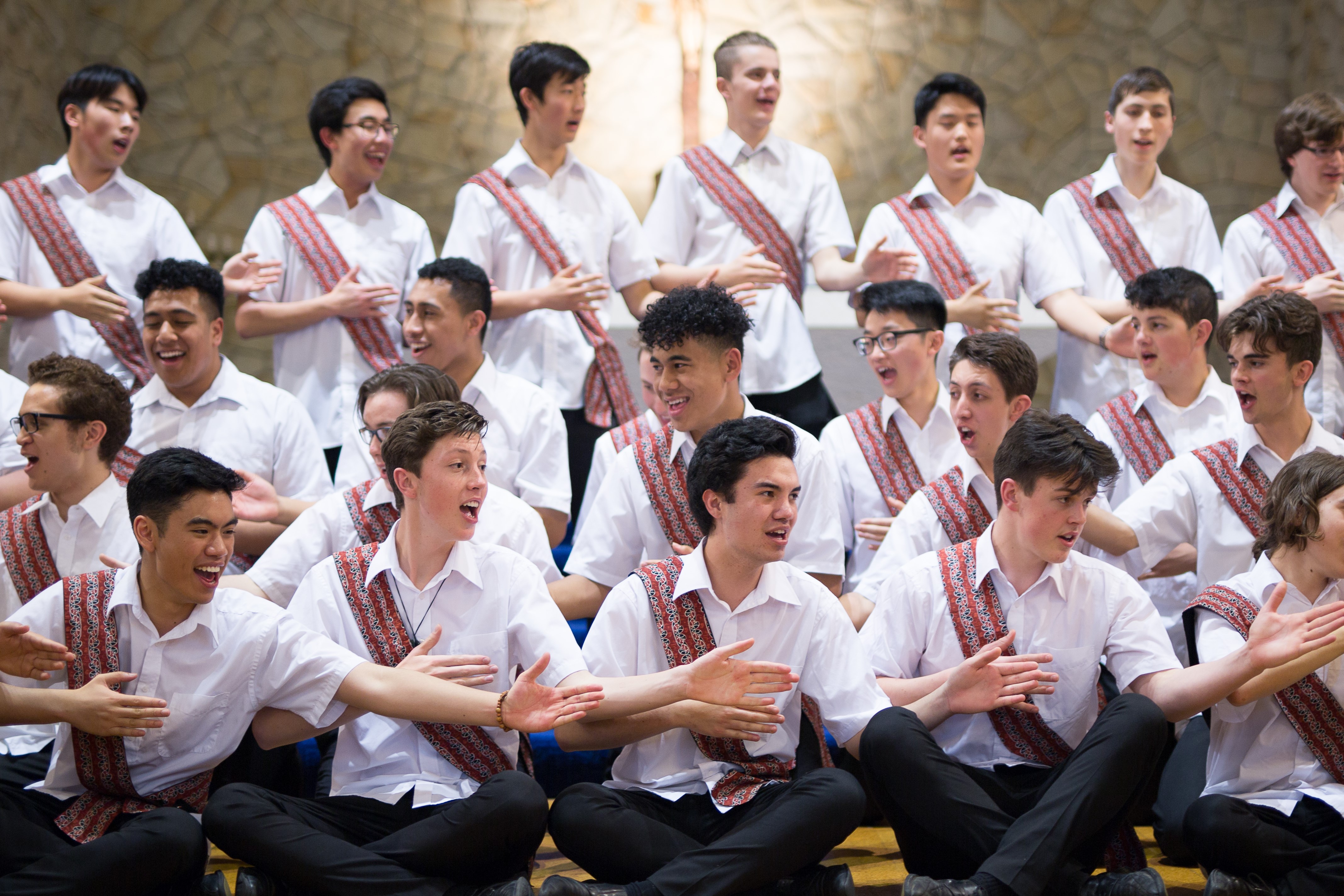 For one member of the New Zealand Secondary Students Choir, our prestigious national choir for 14-18 year olds, singing at the official ANZAC Day commemoration will have extra special meaning. Tawa College student Kaylim Tyson-Nathan's great-grandfather, Ned Nathan, fought in the 28th Maori Battalion and was seriously injured, losing an eye, while defending Crete's Maleme Airfield in 1941.
It was also in Crete where Ned met his wife Katina—a love story portrayed in author Patricia Grace's 2009 book, Ned & Katina. Kaylim (pictured front centre) is one of 55 members of this internationally-celebrated choir, which is gathering in Wellington for intensive rehearsals and performances this week. As well as performing on ANZAC Day for the choir's patron, her Excellency the Right Honourable Dame Patsy Reddy, and national and international dignitaries, the following day the choir sings at parliament—at the invitation of Hon Chris Hipkins, Min of Education.  The week culminates in a concert at Sacred Heart Cathedral on Saturday 28th, with a dynamic and diverse repertoire conducted by Dr Andrew Withington. Details and tickets here. And there's one more chance to catch them in Wellington—the 10am service at St Paul's Cathedral, Sunday 29th.
NZSSC gathers the country's finest young voices and offers a once in a lifetime opportunity, a two-year membership to learn from top New Zealand vocal teachers and consultants. The choir really does change lives, some members have gone on to achieve international careers,  including Johnathan Lemalu, Christopher Bruerton, Tecwyn Evans, Anna Leese Guidi, Madeleine Pierard, rising opera star Benson Wilson and acclaimed operatic tenor Simon O'Neill (ONZM).  Simon has just accepted a role as the choir's vice-patron.
Simon O'Neill credits NZSSC as the catalyst for his international operatic career, which sees him performing in some of the world's most magnificent venues. Simon joined NZSSC in 1988 as a school boy at Ashburton College, he went on to the NZ Youth Choir before studying at the Manhattan School of Music. In the past few weeks, Simon has performed in New York, Munich,Basel, Lausanne and Melbourne and is currently in Valencia, Spain. "NZSSC gave me my love of singing," he says.
In the July holidays, NZSSC will briefly gather in Auckland before travelling to Hong Kong and Shanghai to perform. Their tour includes working with top Hong Kong school and university choirs to present a new commission from NZ composer David Hamilton. Sung entirely in Mandarin and Maori, this will be a new challenge. In Hong Kong, they'll also attend the Belt & Road World Choir Festival.
Read the Stuff article.
New Zealand Secondary Students Choir in concert in Wellington
Sat 28 April, 7.30pm at Sacred Heart Cathedral, Thorndon, Wellington
Adults: $25, seniors: $20, students: $10, intermediate and primary school students: FREE
Tickets online: www.nzsschoir.com/events/wellington-concert or on the door
For more information: Rachel Healy, PUBLICIST T: 0275277732 E: rachel@rachelhealy.co.nz