INTERESTING STUFF
Meet our most recent Intern – accompanist Michelle Xu
Thursday 2 September 2021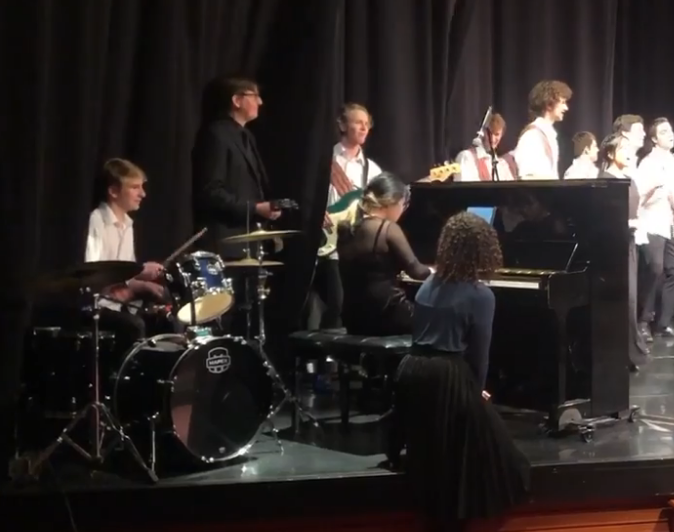 Michelle joined the NZSSC as Accompanist Intern for our July rehearsal course in Auckland, which involved 6 days of intense rehearsals and a concert as part of NZ Choral Federation's Choral Connect.
Michelle already has fingers in other choirs (literally…as pianist) including Auckland Youth Choir and Auckland University Students' Choir, so we were keen to find out where it all started, and how this NZSSC experience compared to their other choir work.
It was their grandmother who first spotted Michelle's rhythm – they used to play duets together on trips to visit family in China – so Michelle was given beginners' piano books and lessons when back in NZ. At high school in Wellington, Brent Stewart (NZSSC Assistant Director/Accompanist and former HOD Music at Wellington East Girls College) overheard Michelle playing piano in the music rooms, and asked them to accompany Cantala, the school's auditioned choir. Michelle was ecstatic at this, accompanying the choir for four years – and cannot overestimate the positive effect this had on their school years.
Michelle is in the final year of a BA/BMus studying Politics and Philosophy and Classical Performance Piano. A sense of curiosity led them to Politics and Philosophy – Michelle is a keen non-fiction reader, particularly interested in the philosophy of language and semantics. On top of piano, they are self-taught in bass and acoustic guitarist and listen to jazz, funk and rock, which balances the more classical piano programme at Uni. Michelle also loves video-gaming and is a mental health and disability advocate.
Playing for a couple of Auckland choirs has introduced them to the Auckland choral network. Auckland Youth Choir reached out to them, and Michelle was appointed Emerging Accompanist with Creative New Zealand funding.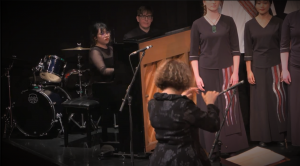 Michelle says of this week with the NZSSC, "I am blown away by the talent in this group, seriously some of the most talented singers in the whole country. I did not know what to expect, but all my expectations have been exceeded". Michelle accompanied two pieces at our concert – our new commission from Richard Oswin, In Flanders Fields, and jammed with our band for I Sing Because I'm Happy by Rollo Dilworth.  They also spent a day working with Elise Bradley and the NZSSC Reserves.
Michelle has big dreams for the future, meaning a "diverse career, always to include teaching and choirs". Next step would be a Master of Arts in collaborative piano performance, and eventually a PhD in Philosophy. They'd also love to play bar gigs in a cover band! Go for it Michelle!
Thank you Michelle, it has been wonderful to have you on our team for the week and we hope you have gained an insight into the accompanist role in a national choir.
We welcome accompanists, vocal coaches and conductors to submit interest in our Internship programme for all three national choirs: Voices NZ, NZ Youth Choir and NZSSC. Email Anna Bowron anna@choirsnz.co.nz for more information.