NEWS
Taking a trip to Hamilton: From NZ Secondary Students' Choir to the West End
Pardon me. Are you Aaron Burr, sir?
Friday 8 April 2022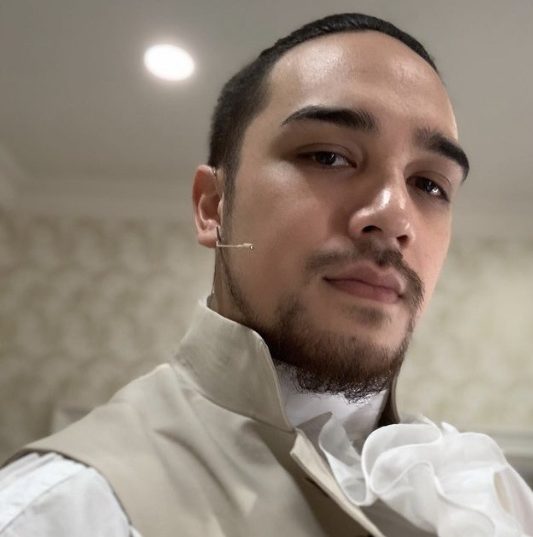 An interview with alumnus Manaia Glassey-Ohlson on his career since leaving our choir
We recently discovered that one of our past members is living his dream as a cast member of Hamilton on the West End, London. Naturally, we had to know more. NZ Secondary Students' Choir Manager Anna Bowron speaks with Manaia Glassey-Ohlson.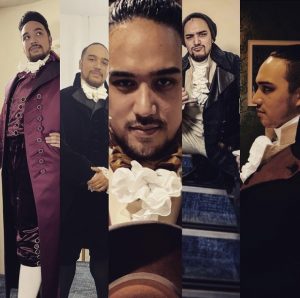 You were in the 2009-2010 NZ Secondary Students' Choir and now you're singing in a massive hit show on the West End. How did this happen…What was your path from NZSSC days to the West End? 
Well what a HUGE START! As I'm thinking about how to answer this questions, I find myself being flooded with memories from my time with NZSSC. I think my love for musicals were evident from around that age as I remember connecting with quite a few members over the subject, comparing notes over lyrics and choreography from various shows. It was a relief to find like-minded people with a passion that matched mine. The shorter answer is that I studied Musical Theatre at what is now Te Auaha in Wellington. I managed to be involved in a couple of amateur productions while studying. After graduating, I was fortunate enough to land singing and musical jobs in Japan and Dubai. Very fun! I made the decision to move to the UK as the opportunity made itself available and I didn't have much going on in NZ. It was a struggle in the OCEAN of talent to find my niche in such a demanding industry, but after some small shows both amateur and semi pro, a couple of singing gigs, I was in a place where I could feel comfortable with how I as a performer. I could bring what I had to the table instead of what I THOUGHT people wanted. I booked my first job at Hamilton West End and now I am currently in the Ensemble and understudy various roles such as Aaron Burr, George Washington, Mulligan/Madison and Lafayette/Jefferson.
What is your daily schedule working on the show?
Six days on, one day off. Tuesday-Sunday. Two shows on Thursday and Saturday. Warm up is an hour and a half before a 7.30 pm show (or 2.30 matinee) and rehearsal sprinkled in where we can, for a year contract.
What are your memories of the NZ Secondary Students' Choir?
I'll tell you what I don't remember… a single note I sang! Hah! Again I'm flooded with moments that have stuck with me. I remember the 'Banana' warm up dance. The time Andrew (Withington) let me conduct a small part of a song and feeling the whole choir move with me. I remember all the naps on the bus in Canada. I remember making personal jokes with almost everyone. I remember the massage trains. I remember how chill Morag (Atchison) was giving us vocal advice that seemingly changed our lives as singers. I remember sitting on the swing outside St Mary's College doubting whether I was good enough to even audition! I remember making a promise to Ben (Madden – now NZSSC Vocal Consultant) that we would do a back flip on a Broadway stage (I can't back flip anymore but we got as close as possible to it on the West End). I remember the feeling of pride for representing my country. As I'm typing this I can't help but get emotional. I remember the feeling of the sun on my skin as I jumped off the YATCH that one of our hosts took us out on in Vancouver (billeted during a tour to the International Choral Kathaumixw, 2010). It was such an incredible time!!!!
Do you feel you learned anything in the NZSSC that you have taken into your career? 
DO THE WORK! A big part of my success and what keeps everyone happy is my work ethic. I know when it's time to shine as an individual and when it is time to serve the piece as an ensemble. Knowing that being a puzzle piece is just as important as having the spotlight. My ear was tuned in this choir. I know how to place myself in the sound to help make the piece shine as well as it can. I credit all of this to my time in the NZSSC. I learnt that ego is important for the confidence to be part of the team, but needs to take a back seat in service to the whole. I remember Kate (Spence) talking about the 'face' and that one small blemish can be noticed on a fresh face. Initially I thought that it meant 'if you sound 'bad' then that's the blemish, but I eventually realised that it is more about blending the sound as well as possible. I learnt to cover my job to the best of my ability and that is enough.
Any advice for our many young singers keen to perform in stage shows? 
Morag gave me the best advice I believe. 'Please keep singing'. There are soooo many logistical and practical pieces of advice that I could give but it all starts with the passion you have for what you do. Becoming a professional isn't the goal. Sharing your passion is. There were times where doing it for free became the only realistic way of sharing any creativity for me and I was content with this. As long as I could keep singing. Keep learning, and exploring. Nothing is the be all and end all. Stay passionate, welcome the challenges, encourage growth and KEEP SINGING!
–
A huge thank you to Manaia for taking the time to speak with us and share his journey. To see the next generation of West End stars, make sure to check out our upcoming concerts.