INTERESTING STUFF
Alumni: Amelia Berry
Friday 9 December 2016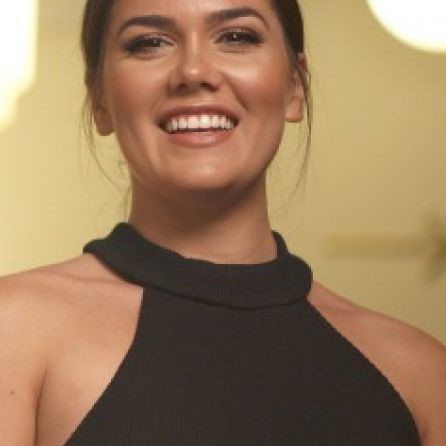 We'd like you to meet New York-based opera singer, Amelia Berry, NZSSC member 2005-2006 and AMP National Scholarship winner, 2015. We asked Amelia what skills she gained during her time in our choir.
NZSSC: How did you hear about NZSSC?
My singing teacher in college was the one who told me about NZSSC and pushed me to audition. All of the music staff members at Tawa College were also really supportive of me doing it.
NZSSC: You live in New York, how did that come about?
I moved over in September 2011 to get a Master of Music and a Professional Studies Certificate and now have a visa to stay on for a few years. Opera careers take a while to get started because they require huge amounts of training and time before the voice is mature enough to take on real roles, so it's a waiting game. I was very lucky that New Zealand Opera hired me in a principal role right after I graduated my Masters and I've been fortunate enough to work with them on several operas since. My American career is still just beginning, but I have a big season of auditions coming up and I'm confident with the repertoire I'm presenting so I'm feeling positive about it!
NZSSC: Tell us about your education following NZSSC, what lead you to the prestigious Manhattan School of Music?
I studied with Flora Edwards when I did my BMus at university and from the beginning she put the idea in my head that I should go and study in America. It wasn't really the done thing in New Zealand because most singers went to the UK, but I always felt like America was the place for me. After I graduated university here, I was an Emerging Artist with New Zealand Opera and that really gave me a lot of the professional skills I needed to get into a prestigious conservatory overseas. I had great musical training through college and university, as well, so a combination of all those things led me to the point where I was ready to study overseas.
NZSSC: Any highlights from your time in NZSSC?
Going on tour to China and Hong Kong in 2006. It was a huge culture shock for most of us and I remember that all we wanted to do was get McDonald's, but we weren't allowed unless we won the big competition. I'm pretty sure that's why we ended up winning – we were just so desperate for a little bit of Western food after all the deep fried milk and blubber soup!
NZSSC: Do you keep in touch with the old friends?
I still have a couple of close friends from NZSSC and I have many others as friends on Facebook… I'm thankful for the friendships I made in the choir and especially for those who remain close friends today. Many of us went through the Youth Choir, too, so we sang together for a fair few years.
NZSSC: What skills did you gain in NZSSC?
The number one skill was discipline, which is of huge importance in an operatic career (or any career, really!) Much of what I do on a day-to-day basis is self-directed and without discipline I would get nowhere. Learning to sing as part of an ensemble was another important skill. In opera there is so much ensemble singing (although it's usually one per part in a duet, trio, quartet or quintet) and NZSSC taught me to be musically accurate, how to listen to the other singers around me and also how to watch and follow a conductor. I had my first introduction to singing in foreign languages during my time with NZSSC and I'm also grateful for the mental and physical stamina I acquired after long days of rehearsal. I don't sing in choirs anymore but I use all of these skills in opera.
NZSSC: Any advice for young singers just starting out?
It's really hard to have a full time career in music. You have to make a lot of sacrifices, but if it's something you want to do then commit yourself to it fully. You have to be really hungry to succeed and have the strength to push yourself every day.. A career in music doesn't have to mean full time performance, either. I know so many people who are really happy teaching music, running opera companies or singing in choirs as a hobby. If you love music then find a way to have it in your life.