INTERESTING STUFF
Alumni: Benson brings London to Mangere
Tuesday 7 August 2018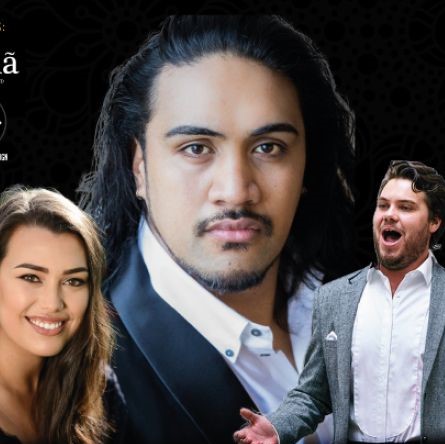 High-flying young baritone Benson Wilson, NZSSC member 2007-2008 and 2009-2010, is now studying at the prestigious Guildhall School of Music and Drama in London.
Winner of the 2016 Lexus Song Quest, Benson was once just a boy from Havelock North, infamous in NZSSC for a particularly bad hair day.
We fired him five quick questions …1. Tell us about the time you …
Dyed my hair on tour? Apparently this story has been told every year as 'what not to do on tour'! Here's the official version. In my second cycle of NZSSC, we went on tour to Kathaumixw in Canada. Shortly after arriving in Powell River, my buddy Kaluani and I decided to dye our hair blonde. Unfortunately, it didn't turn out blonde, it went ginger. Kaluni was told to dye his back to black, but I kept the ginger! So if you see any videos or photos of the choir with a ginger Samoan, yeap that was me …
2. What made you audition for NZSSC way back in 2006?
An alumnus of the choir, Tamsyn Miller, heard me sing at school and organised for me to attend the audition in Auckland.
3. What did NZSSC give you?
NZSSC introduced me to the universal power of music and made me realise that I am blessed to be able to offer this gift to the world.
It also gave me a taste of what it's like to make music at a high level, and the effect good, honest music-making can have on one's soul. Not only did music bring 55 high school students from all different backgrounds together, I witnessed music bringing audience members to tears, making them laugh or roar with applause as we finished our haka.
4. Any tips for our current members, that are not to do with hair?
Be humble, work hard, play hard. Be a good colleague!
No matter how far you go in life, never be too big to acknowledge those who have helped you along the way and never forget where you come from.
5. How did three opera singers come to be performing in Mangere this weekend?
To help support my studies at the Guildhall School of Music and Drama, I'm part of a very special concert in Auckland this weekend, all details are here.  The event will also feature two other NZSSC alumni, Isabella Moore, winner of the Lexus Song Quest in 2014, and Thomas Atkins, currently a young artist at the Royal Opera House in the UK. You can get your tickets now.
Highlights of my first year in London have included roles in Mozart's Le Nozze di Figaro and the Act I quartet of Tchaikovsky's Eugene Onegin. Coaching sessions with Lada Valesova were invaluable to me. In December last year, I successfully auditioned for the Samling Artist Programme, which pairs talented young singers and piano accompanists at the start of their careers with world-class professionals for a week of intensive training and masterclasses.
I am in awe of the venues I have been blessed to perform in and the colleagues that I have met along this crazy journey towards becoming an opera singer. I feel like London is a city that just continuously gives.