NEWS
High Performance Music Director: We meet Sue Densem
Sunday 10 March 2019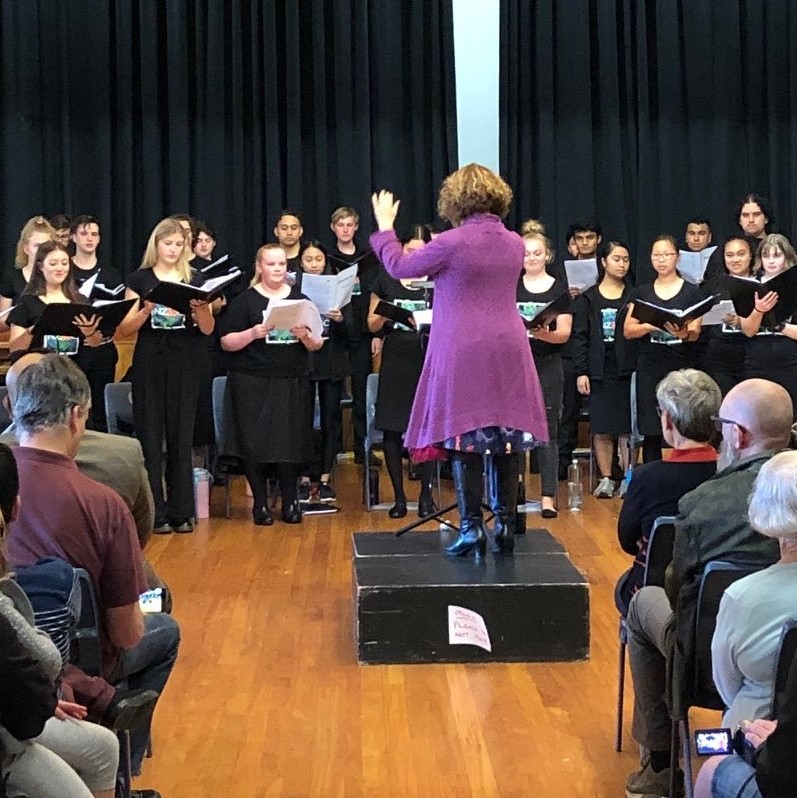 Our new director wanted to be a ballerina. Thank goodness she changed her mind. We catch up with Sue Densem for a quick-fire round of questions and feel exhausted hearing about her many achievements.
16 year old Susan was …
Vivacious, happy and fun-loving.  I was very close to my family and friends. I liked to be involved in as many extra-curricular activities as possible.
I sang in the school choir, played violin in the orchestra, clarinet in the concert band, tenor sax in the Big Band. I performed in musical theatre productions with my family, was in the school dance club.   I was wicket keeper for the Burnside High 1st XI Girls cricket team, played hockey and loved skiing.
Sue today …
I don't play in instrumental ensembles, I still do lots of singing, as a soloist and in Voices New Zealand. As a mother of a 13 and 9 year old, I am busy with my family when not working (teaching and conducting, performing). I still love to have fun!
First choir
I sang in my primary school choir and successfully auditioned for the junior special choir of the Christchurch Primary School's Music Festival. I was nine.
At primary school I also wanted to be a ballerina.
I loved singing, playing instruments, dancing and being on stage so I always knew music would play a big part in my life. As a teenager, I really enjoyed with working children. I decided at about 14 or 15 that I wanted to be a teacher … and here I am.
Special teacher
My first voice teacher, Jean Cumming at Burnside High (former NZSSC accompanist), taught me for five years. When she was ready to retire (many years later) she approached me and suggested I might apply for her job as an itinerant voice teacher and choral conductor. She left enormous boots to fill.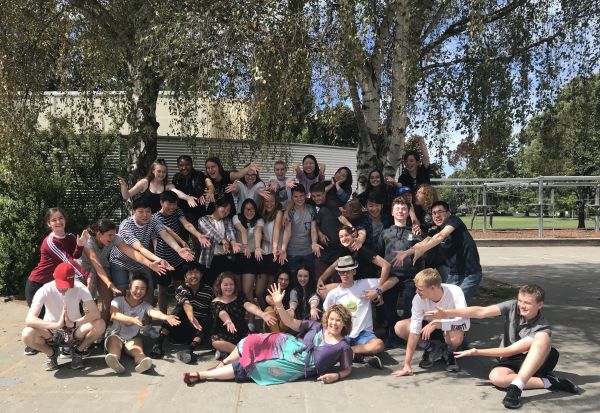 Rehearsal weekend with Burnside High School Senior Chorale
A music degree
I started teaching piano at school then clarinet and violin at university, I did a BA majoring in Music. When I graduated, I went on the National Youth Choir tour to Europe, touring for nearly eight weeks! My brothers were also in the Youth Choir with me. I stayed on to live in London after the tour and did lots of travel.
The following year I started my diploma of teaching at Christchurch Teachers College. I knew I wanted to be secondary teacher but I also loved working with younger students so started with primary training, and became a classroom teacher and music specialist.
After three years, I decided to give singing a go full-time.
Off to train in Australia
I took a year off teaching to study full-time  at the Queensland Conservatorium of Music in Brisbane. I quickly realised I wanted to do more than a year. In my second year I finished a Bachelor of Music in Voice and decided to resign from my teaching job to do post graduate study.
I was also working for Opera Queensland. Half way through my post grad voice year I successfully auditioned for the Opera Company and the Queensland Arts Council touring production to take opera into primary schools.
It was the perfect job for me, I was paid to sing and work with children at the same time. I travelled around Queensland introducing children to the wonders of Opera through a production called Sid the Serpent Who Wanted to Sing.
Balancing teaching and opera
On my return home, I balanced primary teaching, singing opera and performing as a soloist with choirs and orchestras as well as singing with Voices NZ.
I conducted primary school choirs, orchestras and festivals until my mentor, Jean, asked me to apply for the job I have now at Burnside High.  It was a huge step to go from primary music teaching to the secondary school environment.
I had been working with choirs singing in two to three parts and was suddenly conducting Bel Canto in eight parts – seriously scary! It was the best move I ever made and I love being an itinerant teacher of voice and choral conducting.
Performance nerves
I get a little nervous before I perform and conduct. Mostly it is the butterflies you get before the concert begins. Once I get on stage and start singing or conducting the nerves all melt away and I just live in the moment and enjoy myself.
If I am well prepared, I try to remind myself that the nerves are really for excitement and I try to ignore them BUT if I go to a performance unprepared then I pay for it, those nerves do not go away. Those nerves are scary.
Be prepared! It's a mantra to live by if you want to enjoy your performances.
Career highlights
As a soloist, performing concerts with Sir David Willcocks was a highlight.  As a chorister, singing in both the NZ Youth Choir and Voices NZ are highlights. Performing in the National Youth Choir in 1990 at the closing ceremony of the Commonwealth Games with Dame Kiri Te Kanawa was pretty awesome. In 2016, I had the opportunity to sing with Dame Kiri again with Voices NZ.
As a conductor, winning four platinum awards at the Big Sing Finale was very exciting but I think working as the Music Director for a national choir will bring further career highlights. Taking NZSSC on an international tour next year will be very special. Watch this space!
What do you bring to NZSSC?
I am looking forward to working with the best young choral singers in the country to create beautiful expressive performances.
Singing is such an all-encompassing and emotional experience and the relationships we develop and the skills we learn in a national choir are ones we will treasure forever. I am so happy to be part of facilitating that!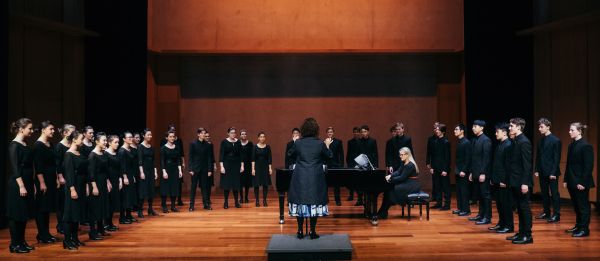 Big Sing, regional performance Burnside Senior Chorale 2018
How do you control all those teenagers?
Having fun is the way to approach rehearsals.  When we enjoy ourselves we learn easily.
After fourteen years conducting and teaching teenagers, I have a wealth of experience. I love my job and I look forward to each rehearsal I run. My students inspire and energise me.
As a singer and voice teacher I know the voice, the vocal challenges and limitations. I train my choirs from the perspective of a singer.
What else do you get up to in Christchurch?
I have been the conductor of the Jubilate Singers, an adult Chamber Choir, for three years and Music Director of the University of Canterbury Chamber Choir, Consortia, for two.
At Burnside High I teach group vocal tuition and conduct Aurora Voices, our auditioned treble junior choir, Bel Canto, our senior auditioned girls' choir and Senior Chorale, our auditioned senior mixed voice choir.
Last year Bel Canto performed as part of the 125th anniversary of Women's Suffrage with the Prime Minister as the featured speaker. This year we're performing with Julia Deans during the Christchurch Arts Festival.
Favourite music?
There are so many composers I like. I love Handel Opera.
Ēriks Ešenvalds is one of my favourite choral composers, I was very lucky to meet him when I went to Barcelona to the World Choral Symposium.
I am a Queen fan. I loved Bohemian Rhapsody.
Craving some …
Chocolate. Especially dark chocolate and Lindt Balls.
Dinner with …
Dame Maggie Smith, Renee Fleming, Colin Firth, Barack Obama. We would have a seafood platter, Filet Mignon, Argentinian style with colourful veggies, and a decadent cheesecake with cheese and crackers to follow.
Can anyone learn to sing?
Absolutely, but the younger you start the easier it is. In saying that, the voice is an instrument that can be started later in life and still have the potential to be stunning.  It is the aural development that should be ideally started at a young age.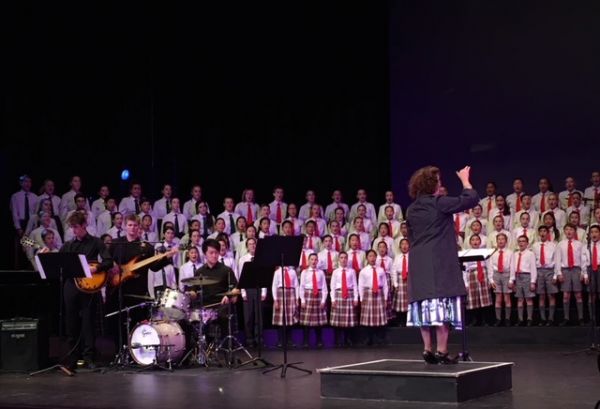 Sue conducting the North West Festival massed choirs at Burnside High 2018
Why are choirs life-changing?
It's  a combination of the relationships you develop and the intense musical experiences you share together.  Singing in a choir brings joy to all involved, both choir members and audience.  Choral singing is good for your health!
Advice to teenage self …
Treasure the friendships you made as a teenager and try to keep in contact with them as you grow older.