NEWS
Member spotlight: Charle Rainey of Nelson
Friday 17 June 2022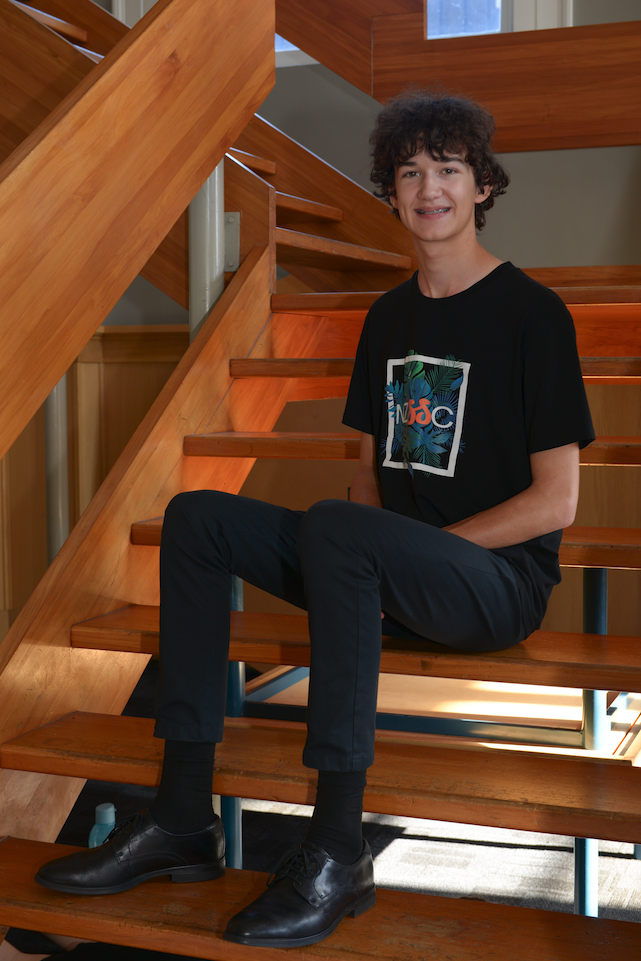 Before we embark on our Southern Stars tour, find out more about one of our singers from Nelson!
Charle Rainey, in Year 13 at Nelson College, has a pretty impressive pedigree in the choral world. Many will know his father, Pete Rainey – Vice Chair of the New Zealand Choral Federation and Chair of NZCF's Big Sing Committee. Pete was a member of the fabled 1980-82 NZ Youth Choir which toured to Europe and performed with Kiri Te Kanawa, led by Guy Jansen and Professor Peter Godfrey. Charle tells me his mother sings pretty well too!
Like his father, Charle is a musician through and through, playing three instruments – tuba, piano and trumpet. He performs with his school concert band, with the Nelson City Brass Band, a funk band, competed at the Smokefree Rockquest (regional finalist) and is part of a Chamber Music trio. Somehow he also manages to spend his school holidays with the NZSSC!
"I am finding NZSSC membership amazing. Singing in the choir has been the most incredible experience over the last two years. The amazing staff have been so incredibly kind to us and take care of us every single course. Singing in this choir has developed my vocal abilities and I have learned to become a better singer overall. I've made so many lifelong friends in the choir, and they also make every course a delight."
He's pretty happy that the NZSSC is spending the first three days of the Southern Stars tour in Nelson with a concert at the Nelson Centre for Musical Arts on Monday July 11.
"The repertoire that we sing in this choir is so diverse and fresh. It's not that choral music you'd expect. The choir is one of the best sounding in Aotearoa, and we have so much fun performing the pieces. Anyone who sings in choirs or just for fun as a hobby should come and hear us perform in Nelson, especially schools kids as the performance could encourage them to audition for the choir. I'm really looking forward to performing in Nelson with this fantastic choir, and I really hope other young Nelsonians come to listen."
This is Charle's final year in the NZSSC, and he's considering options for 2023 to study either Performance or Composition, possibly at Victoria or Otago. This might lead to teaching but he has plenty of time to decide. With what he has learned from the NZSSC, and his many other musical talents, the world is Charle's oyster!
Keeping it in the choral family, here are some fun facts about Charle's father Pete:
Pete Rainey MNZM is an event producer whose company Rockquest Promotions Ltd has been producing music events for over 30 years. He has extensive governance experience, currently as a fourth-term Nelson City Councillor, as well as holding board positions with local arts organisations including the Nelson Centre of Musical Arts. He was awarded the MNZM for services to music in 2013.

Pete was a member of the New Zealand Youth Choir and the National Youth Orchestra and continues to be involved in music in Nelson. He currently conducts Chroma Chamber Choir and is a past conductor of the Nelson Civic Choir. Pete is the founding Musical Director of the National Male Choir, continues to play viola and violin, and has also been the artistic director of Opera in the Park in Nelson since 1999.

He is The Big Sing committee Chair, and was in the NZ Youth Choir 1980-82 – part of world tour with Prof Godfrey and Guy Jansen.
The NZ Secondary Students' Choir travels to Nelson as part of our upcoming Southern Stars tour, with a concert at the Nelson Centre for Musical Arts on Monday July 11. Tickets are available here.